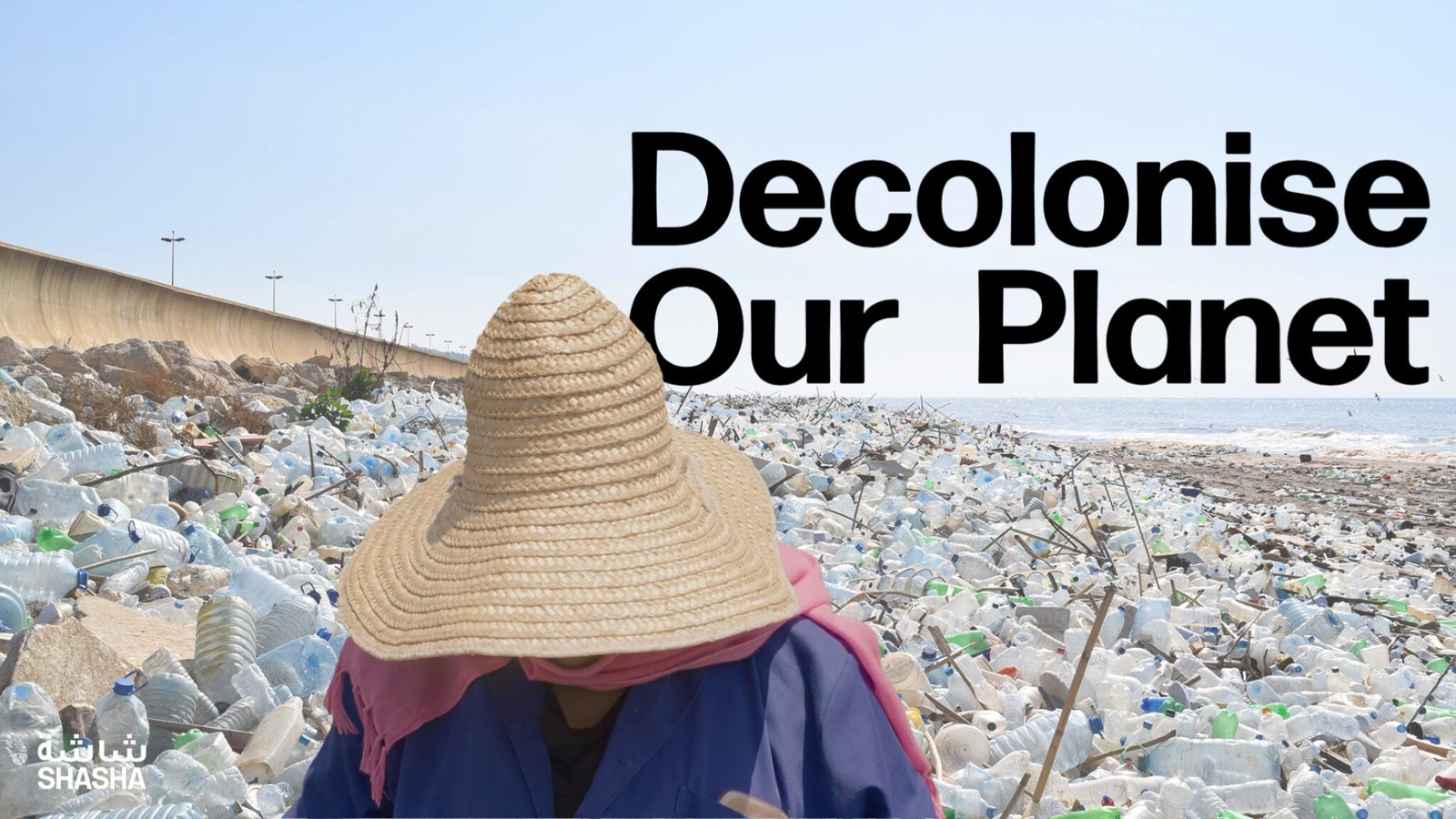 Featuring twenty curated films that pertain to themes of environmentalism: both civic and natural. History of people and their practices is seen through a visual narrative, connecting images of the past to a composition of its traces in the present. This living memory brings into conversation and questions the sustainable and unsustainable practices that fill our daily lives, whilst peering towards a collective future.
Decolonise Our Planet
1st December '21 – 31st January 2022
NIUN presents two extraterrestrial protagonists (NIUN 1 and NIUN 2) as they navigate a futuristic utopia. The work is inspired by the seminal science fiction text, Awaj bin Anfaq by Zakariya al-Qazwini, about an alien who visits Earth to study the oddities of human behavior. Together and in sync, the two artists and collaborators of this artwork, Ahaad and Michael, represent the founding members of the NIUN society - who embrace the 'accelerated future',  but also signal its possible pitfalls. They chant mantras—arthi (my land), noor (light), hajera (traveler), and hajirati (my rock) that prompt curiosities regarding this…

Playing the Taar

Roya Sadat

Ay Nabaat is a 17 year-old girl from the Turkmen ethnic minority in Afghanistan.

She has been weaving carpets at home since her childhood. Her entire life is interlocked

to carpet strings and colors. For many years, her father has been engaging himself in bloody and hostile exchanges with another neighboring ethnic group. In order to put an end to this hostility, he decides to have Ay Nabaat marry a man from the opposing group who already has three wives. After getting married, Ay Nabaat gets pregnant. To take revenge on Ay Nabaat's father,…

Leviathan – Episode 1: Ben

Shezad Dawood

Shezad Dawood's

Leviathan Cycle

is a film series considering the key issue of our day: how do we understand the intersection of climate change, migration and mental health in our shared ecosystems? 

The films blend fiction and fact carefully researched in collaboration with scientists, philosophers, activists, anthropologists, futurists, trauma specialists, oceanographers and climatologists, to envisage a near-future eerily like our present. Each episode is written from the point of view of an individual character, and the first episode follows the British born Ben (Zed Josef) who describes the end of civilisation as…

She Was Not alone

Hussein al-Asadi

A documentary set in Iraq's marshlands, Fatima lives unmarried and alone in her swamp,  keeping buffalo, chickens, a kitten and other animals. She describes her lonely and often hard life, but she would never move to the city, as she would perish there like a fish out of water.

Please note The Land is available to watch until he 31st December 2021.

'The Land' documents the uprising of the people of Bisri and activists from all of Lebanon against the construction of the dangerous dam leading up to the Bisri Valley's liberation. Farmers and shepherds discuss their fears of losing the land and their intimate relationship with it. It also presents the project's seismic and geological dangers, its futility, the conflicts of interests surrounding its construction, and its destruction of a rich and significant area in every respect.

Paris Without a Sea

Mounira al Solh

'Paris Without a Sea' (2007–2008), the second part of

The Sea is a Stereo

(2007–2010), a series about a group of men who swim every day on the beaches of Beirut, undeterred by rain, wind or war. In this work, Mounira Al Solh interviews the men and asks seemingly basic questions that touch upon critical sociological and anthropological issues. The beaches of Beirut are dangerously polluted and should not be swam in. Still, the men engage in that leisure time every day, making one wonder whether or not these men have jobs or anywhere…

Earth-shattering events are relatively par for the course in Lebanon, with war, political upheaval and a number of social revolts. While the Lebanese focus on surface level events that could rock the nation, few realize that below the ground we walk on, an actual shattering of the earth is mounting. Lebanon stands on several major fault lines, which are cracks in the earth's crust. The film investigates the geological situation in Lebanon, trying to look for the traces of the imminent disaster.

We Made Every Living Thing from Water

Paul Cochrane, Karim Eid-Sabbagh

In this documentary independent journalist Paul Cochrane and researcher Dr Karim Eid-Sabbagh investigate the political economy of water in Lebanon – how the flows of water are shaped by power and capital.

Filmed in the wake of the July 2015 trash crisis, the film highlights the dangerous impact environmental degradation is having on the country and its water resources, and how in the face of governmental disregard for ecological concerns the public is starting to mobilize in order to protect a common resource.

The 40-minute documentary shows how politics, sectarianism, development agencies and economics…

The Sky Oscillates Between Eternity and Its Immediate Consequences

Nadim Choufi

Set in a space colony on Earth, this new sci-film explores how the future of smart cities relies on the promise of "sustainable" closed systems in the face of health and ecological crises. Two protagonists narrate how the isolation, control, and exploitation of environmental life cycles and the organisms' lifetimes become a blueprint to achieve such futuristic visions.

A Passage

Rouzbeh Akhbari, Felix Kalmenson

This is a film that tackles the political economy and social ecology of border infrastructures in Southern Armenia. Focusing on two significant events that illustrate the dominant political shifts in the region, it examines how processes of rapid militarization and neo-liberalization have restructured these borders. 

These two events include the recent erasure of the historic Yerevan-Baku Railway, and the upcoming construction of an industrial Free Economic Zone (FEZ) planned precisely where the removed train infrastructure was housed. The scrapping of the railway symbolizes the socio-political adherence to maintaining strict mobility regimes for citizens, while the introduction…

This Haunting Memory That Is Not My Own

Panos Aprahamian

Through semi-fictional storytelling, the film shines a light on how economic growth and environmental decay are interlinked and entrenched in social and ecological injustice. It addresses forms of extraction and violence inflicted on human/nonhuman bodies and the ecosystem along the shorelines of Beirut, the city's port, and around the Karantina district, a dumping ground for the unwanted - things and bodies alike

Wild Relatives

Jumana Manna

Deep in the earth beneath Arctic permafrost, seeds from all over the world are stored in the Svalbard Global Seed Vault to provide a backup should a disaster strike.

Wild Relatives

starts from an event that has sparked media interest worldwide: in 2012 an international agricultural research center was forced to relocate from Aleppo to Lebanon due to the Syrian Revolution turned war, and began a laborious process of planting their seed collection from the Svalbard back-ups. Following the path of this transaction of seeds between the Arctic and Lebanon, a series of encounters…

Jezzine Water

Zeina Aboul Hosn

In May 2017, the Lebanese southern city of Jezzine hosted 6 contemporary artists, who researched and produced work on the theme of WATER. This film tells the story of the residency and its participants, while also offering a glimpse into the lives of the local community and the history of Jezzine itself.

Stone, Time, Touch (2007, 72′) dir.

Gariné Torossian

Stone Time Touch

, starring and narrated by Arsinée Khanjian, is a documentary essay which builds a layered and elusive image of Armenian identity. It is an extended meditation on the traces of Armenia as they are lived out in the homeland of imagination, and in the existing geography of Armenia of today.

The City Will Pursue You

Ahmed Nabil

In Alexandria, Ossama follows stories of old buildings being demolished and historical landmarks disappearing. He encounters different characters of the city recounting their connections to certain places that are on the verge of vanishing. Some are quite nostalgic and take the matter as a sign of the city's downfall, while others are more "practical".

Komşu Komşu! Huu! (Hey Neighbour)

Bingol Elmas

A monster called urban transformation has been occurring in Turkey for the last few years. Haunting the neighbourhoods, this monster destroys whatever is left of the history, erects glass towers everywhere, and swallows the few trees left. While this monster is at work, the old and the new, the rich and the poor, start to become neighbours. A huge residence which towers in Feriköy district, in the heart of İstanbul, and Paşa neighbourhood, an old settlement which tries to breath in its shadow... Our film is about the relationship between a shanty neighboring an apartment building. A pink…

In the last four decades, many people have come from Iraq as refugees. In 1991, a division was created between northern Iraq (Kurdistan) and the rest of Iraq. The UN considers Kurdistan a safe zone. As a refugee you have to come from the unsafe zone, or at least prove that you do, in order to qualify as a refugee. 

Pre-Image (Blind as the Mother Tongue)

Hiwa K

As a member of the immigrant generation that illegally journeyed from Iraqi Kurdistan to Europe on foot, Hiwa K's 'Mirror' simulates an experience of walking through foreign territory. Using an "object-sculpture" made of stick and motorbike mirrors which he balances on his nose, Hiwa K finds his way. The object acts as a navigation device and what Hiwa K calls "an adaptation tool" that he uses to familiarize himself with unknown spaces. It is an extension of the organs and senses, providing the traveler (and viewer) with various mirrored perceptions, "seemingly longing to my body rather than belon-…

Speculating on the impact of a 1989 solar storm, the film mimics the unpredictable release of energy flares, layering personal histories with major geopolitical events as it shifts from his family's Beirut home to Bucharest, Berlin, and further afield.

Samaha explores childhood anecdotes heard around an apartment, which until 1989, when a major solar storm erupted, had been inhabited by a strange couple. Some suspected them of being undercover agents, while others said they were new age sorcerers. 

He addresses the relationship between layers of history, outstanding events in nature and ancient cyphering of…

​​Ranger and Leopard

Fathollah Amiri, Nima Asgari

Halvani hears a rumour about the presence of a Persian Leopard in the area under his protection in Isfahan (a city in central Iran). However, nobody has spotted any Persian Leopards there for about forty years. Halvani suspects that there are traces of Persian Leopard and tries to find it, facing many difficulties on the way.